Kyiv, "The pawn office lending era for the banks is over",- stated Piraeus Bank in Ukraine member of the Board Svetlana Cherkay during her speech on "Small business in Ukraine: what are the chances of becoming European?" roundtable discussion organized by Ukrainian union of industrialists and entrepreneurs.
Time when Ukrainian banks massively lent money to population and businesses is gone. During that time banks took into consideration the availability of real estate as a guarantee of a loan repay and did not pay much attention neither to financial situation of a borrower nor to the business development level.
"Today 5 years after the crisis of 2008, the availability of collateral is not the crucial factor for a bank to take a positive decision and to lend money, - said S. Cherkay.- To provide a loan banks now consider revenues and financial status of the borrower, his or her experience in business development and transparent reporting. With regards to private entrepreneurs and small businesses, banks request business-plan and clear business-model before any credit activities.
Piraeus Bank in Ukraine member of the Board noted that in case when all stated factors were not provided banks usually rejected in loan or granted it at a very high interest rate in order to cover potential risks. "Especially when a borrower is not the bank client and a bank has no information on cash turn over, business volume, growth perspectives and unknown behavioral model", - said S. Cherkay.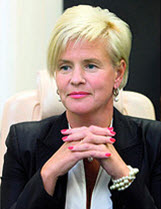 Svetlana Cherkay, Piraeus Bank in Ukraine member of the Board: "The pawn office lending era for the banks is over"
During the discussion she also mentioned that entrepreneurs and small business were not always ready to provide to the banks their management statements, share internal information, prepare professional business-plans as well as estimate both optimistic and a pessimistic scenario of future growth. However according to opinion of the Piraeus Bank in Ukraine member of the Board the situation would gradually change and both sides will come to a constructive dialogue. "This will assure synergy effect to every side: private entrepreneurs will get an access to loans without higher exposure fees, and banks will receive a new base of prospective borrowers", - underlined S. Cherkay.
Also in the roundtable discussion participated the following speakers: Sergiy Prokhorov - first vice-president of Ukrainian union of industrialists and entrepreneurs, Oleksandr Potymkov - first deputy head of State Service of Ukraine for Regulatory Policy and Entrepreneurship Development, Vyacheslav Bykovets - managing director of the Union of small, medium and privatized enterprises of Ukraine and Segriy Mamedov - executive officer of Independent association of the banks of Ukraine, Ukrgazbank chairman of board of directors.
Note. Piraeus Bank Group is one of the major banking institutions of Southern and Eastern Europe. Piraeus Group's pro-forma total assets amount to €95 bn, net loans to €63 bn and customer deposits to €55 bn (at the end of June 2013).
Piraeus Bank entered the Ukrainian market in 2007.
Piraeus Bank has the highest rating of deposits reliability provided by "Credit-Rating" Agency (grade "5"as of latest rating of 27.09.2013).
The Bank is authorized by the Pension Fund of Ukraine to make payments of pensions and financial assistance. The Bank is a member of Fund of Guaranteeing the Deposits of Individuals and Forum of Leading International Financial institutions (FLIFI).
Piraeus Bank in Ukraine Press Service
tel: +38(044)495-88-88
e-mail: press@piraeusbank.ua