News archive
Piraeus Bank invites Visa cardholders' clients to participate in 'Replenish Visa cards for free'
14 April 2016
Piraeus Bank in Ukraine Visa cardholders' clients, who constantly perform payment by payment card, are able to replenish their Visa card for free. This states the press service of Piraeus Bank with reference to the Official website of Visa Int.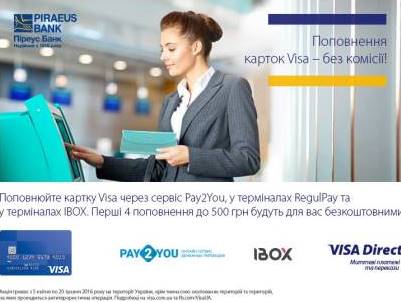 To participate in the action is easy: replenish Visa card for free via terminals IBox, RegulPay, service Pay2You. The action extends on the first four replenishments up to UAH 500 and is valid from April 5 to May 20, 2016
The rules and conditions of the action are posted by the link: www.visa.com.ua, as well as on partner's sites IBox, Pay2You, RegulPay.